About Dogwood Grove
Dogwood Grove is a beautiful neighborhood in the northeastern corner of Germantown, TN. Its western boundary is Johnson Road, and both the north and south sides straddle Wolf River Boulevard. The neighborhood was established in the late 1980s, and the homes in Dogwood Grove offer multi-story living on large lots and sit close to attractive schools, parks and other amenities.
Dogwood Grove Community Map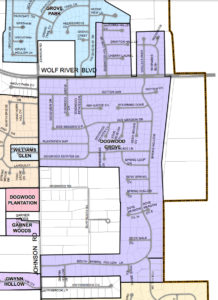 Academic Opportunities
Dogwood Grove is zoned for the Germantown Municipal Schools district. These three local schools have some of the highest academic scores in the county and state:
In addition to outstanding public schools, Dogwood Grove is also within three miles of impressive private schools, including:
Parks and Amenities
Many homes in Dogwood Grove are located on Germantown's Greenway. This paved path connects to Memphis and covers almost 21 contiguous miles of Greenway. This Greenway also links our residents to parks, shops, restaurants, performing arts centers and makes for a beautiful bike ride along the Wolf River.
Visit the City of Germantown website for detailed information on the community, its public services such as water, sewer, garbage removal, and leaf collection, its 26 parks, 21 miles of Greenway and recreational activities, and the police and fire departments.
Homeowners Association
An active Homeowners Association provides maintenance to each of the neighborhood entrances, writes a monthly e-newsletter and puts together friendly engaging social activities for all age groups. Optional to join for a small annual fee, the HOA is a fantastic way to engage with your community, support your neighborhood, and stay up-to-date with Dogwood Grove.
Information for Realtors
The neighborhood of Dogwood Grove is situated in the northeastern corner of Germantown, Tenn. between Johnson Road and Wolf River Boulevard. It is a well-established neighborhood, with multi-story homes sitting on large lots, ranging from range from 3.5k – 7.5k sq. ft.
Children can walk to reputable public and private schools and the variety of local parks and amenities. Homeowners with families will love the activities provided by the strong neighborhood association.
Our active Homeowners Association provides a wealth of benefits and activities for all age groups. There are no mandatory annual fees, but membership is optional and encouraged.